<![if !vml]>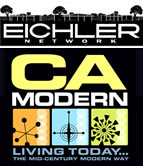 <![endif]>
On the Road Again: Trailers
By Dave Weinstein
Summer 2007
With a renaissance underway, broken-down travel trailers return to reclaim their modernist roots
<![if !vml]>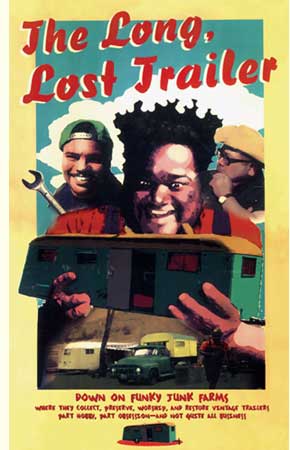 <![endif]>They're small, sleek, and often silvery-skinned, superbly engineered, and with zero wasted space. People can live in them and, when it's time to move, can move in them. The best among them are stylish, even beautiful. More than anything Le Corbusier ever designed, they are true 'machines for living.'
Yet in architectural history, mobile home travel trailers get no respect.
Architectural historians brag about the profession's commitment to mass-producing houses for the poor and working class—an effort that has been much promised but rarely achieved. Richard Neutra won praise for his low-cost World War II housing in San Pedro, Gregory Ain for his Mar Vista tract in Venice, aimed at ex-GI's with young families. Yet architectural historians never include travel trailers in their paeans to 'social housing.'
But throughout the Depression and in the immediate postwar years, thousands of Americans found shelter in simple, efficient, and inexpensive travel trailers. Trailers were, quite simply, a form of vernacular, working-class modernism inhabited by people who had never heard about 'form and function.'
It is true, of course, that trailers are not technically houses—nor, in some views, architecture at all. Their designers remain largely anonymous. Trailers don't fit in the standard architectural paradigms. There is no theory of trailers. Like tract houses, which have also been excluded from much of architectural history, trailers are not quite respectable. They're a form of 'low art' at best, associated with 'trailer trash,' at one end of the spectrum; and with lower-middle-class vacationers wearing plaid shorts at the other. Despite their streamlined look, there's something about trailers that can seem irredeemably square.
Trailer fans, however, are taking heart, because trailers are starting to gain attention among architects, historians, and the common herd. "These trailers were the original small living spaces," says Ed Lum, a graphic designer and trailer aficionado who's as square as a jellyfish. "Now it's come back that people are looking for small living spaces. So what was retro is now modern again." Lum lives in a trailer in what may be the country's only trailer park that has been declared a historic monument, Monterey Trailer Park in Los Angeles. "A lot of architects are now getting into this," he says. "They're recognizing them a lot more than they used to."
<![if !vml]>
<![endif]>
California, not surprisingly, is in the forefront of the travel trailer renaissance. In Los Angeles, architect Jennifer Siegel, who owns an Airstream trailer, designs prefabricated homes and offices on wheels through her firm, the Office of Mobil Design. And artist Andrea Zittel, who's based in Joshua Tree, in the high desert east of Palm Springs, has created many trailer-like art objects—including the tiny 'A-Z Escape Vehicle' ("a refuge from public interaction") and the 'A-Z Wagon Station' ("an evocation of the Old West covered wagon") that are more thought experiments than marketable products.
<![if !vml]>
<![endif]>
In her art, Zittel poses the question: how small can a space be and still be considered a 'home'? That's a question trailer manufacturers have been trying to answer since the 1920s. Perhaps the best way to trace their efforts—and to find out just how modern travel trailers can be—is to visit Funky Junk Farms, a collection of vintage trailers and more, at two sites in Southern California.
"Look at them," says John Agnew, the proprietor of the farm's main 'campus' in Altadena, which is filled with trailers of varied sorts in varied stages of repair. "They're beautiful. They're like big bungalows on wheels."
At the farm, a former tropical fish hatchery called the Altadena Water Gardens, Agnew, Lum, and their friend Steve Butcher collect, preserve, worship, and restore vintage trailers. Butcher, whose background is in vintage auto restoration, also runs a large indoor trailer rehab hospital in the Ventura County town of Fillmore, an hour away.
<![if !vml]>
<![endif]>
Agnew's Funky Junk Farms is both a museum and his home. The operation is part hobby, part obsession, and not quite all business. "These are art pieces to us," he says. "This is a gallery."
Agnew and Butcher are Teamsters who drive prop trucks and other vehicles for the movie studios. They met on the set of 'Pontiac Moon,' with Mary E. Steenburgen and Ted Danson, discovered a shared interest in old cars and other examples of antique Americana, and were soon searching out trailers and other treasures every weekend. Lum came into the picture when Agnew noticed his girlfriend's cool old Rambler sedan parked outside a coffee shop.
Funky Junk rents its trailers to the studios for movies, TV shows, and commercials. If the studios need authentic Art Deco cigarette machines, shelves filled with 1930s cleaning products, or handmade robots from the 1950s, Funky Junk's got that too. "I started collecting when I was a kid," Agnew says. "Everybody's got to have a boat motor collection, right?" he asks, as he leads a visitor past his.
But these days, trailers take pride of place. And while Agnew's got a Colonial-style 'Cottage Home' trailer from 1948, complete with white clapboard and shutters, the trailers that most stand out are those that are styled modern.
<![if !vml]>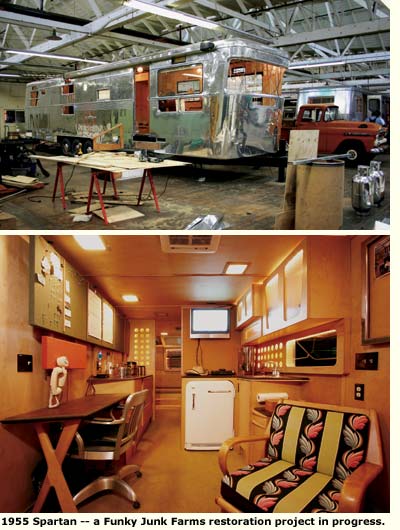 <![endif]>In the 1920s, trailers were a whole new building type—though they were rooted in covered wagons, stagecoaches, sheepherders' wagons, even private railcars. The Curtiss Aero-Car from the 1930s—several examples of which can be found at Butcher's shop—recalls the sort of railcar that 19th Century barons of industry once used.
Designers devised ingenious ways of saving space—hidden storage, built-in banquettes, tables that slip out of sight, diminutive sinks, showers and kitchens, and rooms that served for sleeping at night and living during the day. Interiors often recall 1930s California modernism, or even 1950s tract houses by Eichler, with mahogany plywood paneling, streamlined cabinetry, and indirect up-lighting. A 1952 Pan-American has sculptural shelves that suggest the half-living, half-dead creatures seen in 1940s surrealist painting by Yves Tanguy.
Everybody knows about the Airstream, of course. The only classic trailer still in production, Airstreams are polished aluminum, aerodynamically sound, well engineered, and much loved. Kerrie Aley, who buffs her aluminum, 1962 Airstream Bambi until it shines like a mirror, loves its shape, molded interior ("like the interior of a DC-3") and superb riveting. Aley, who used to design aircraft brake systems, speaks from experience. "They're built with aerospace technology," she says. "The thing is just really well-built."
How Kerrie and her husband Allan Songer came to own their Bambi shows how much owners love their trailers. Allan first spotted the trailer in Long Beach, where he and Aley live, and left a note saying he wanted it. Twelve years later he got a call from its owner, inviting them over. "She was interviewing us like we were adopting a pet," Aley remembers. They passed.
<![if !vml]>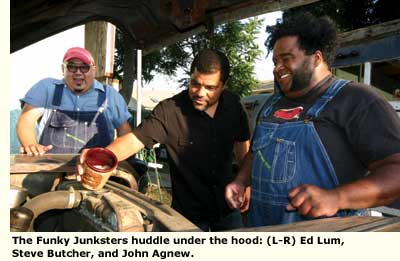 <![endif]>At Funky Junk Farms, however, 'Airstream' is almost a dirty word—not because they're not beautiful, but because they're too common. "It's like owning a Chevrolet or a Dodge," Agnew sniffs. "We've called Airstreams 'mainstreams.' " Butcher adds, "We're more into the rare type that were sometimes built by people who worked in the aerospace industry, and decided to build their own trailers."
Funky Junk Farms has quite a collection of homemade trailers, often based on kits. One charmer from the '30s has portholes for windows and a rear that pops open to become a screened porch. But they love factory-built trailers too. Agnew and Butcher brag about Spartan trailers, with their aluminum exteriors and wraparound windows. "Spartans are the epitome of the modern," Lum says.
Then there are the Shastas, with a cool 1950s look, with two-tone exteriors. "A lady's trailer," Agnew says of one 1956 model he's currently restoring for a lady.
Trailers have a rich history, and the Funky Junk collection covers much of it. Evolving in the mid-'20s from 'tent trailers,' travel trailers boomed in the mid-'30s. They provided cheap vacations, and homes for mobile workers and those seeking work. As the craze took hold, the number of manufacturers jumped from fewer than 50 in 1932 to 800 in 1936, according to Bryan Burkhart and David Hunt's in their book 'Airstream: The History of the Land Yacht.' Some trailers were called 'canned hams,' because of their shape, others 'breadboxes,' for the same reason. And there were tiny teardrop-shaped 'teardrops.'
By 1940, after the inevitable crash, the number of manufacturers was down to 40. Trailers boomed again in the 1950s as new highways made it easier to take to the road.
<![if !supportLineBreakNewLine]>
<![endif]>
<![if !vml]>
<![endif]>Trailers have always been modern in attitude, even more than in look. "There's this whole on-the-road American idea of freedom," Aley says. "To me," says Agnew, who takes his trailers to the desert and the sea, "it doesn't matter what kind of trailer you have, as long as you're enjoying the outdoors."
And, as Lum points out, it's their size that makes trailers seem modern today. 'Think Small,' the New York Times recently headlined a feature about the "tiny-house movement," a new generation of modular vacation homes, "seldom measuring much more than 500 square feet," that are popping up on mountains and by the ocean.
That's where Tom Carson comes in. Carson is a young architect whose Marina del Rey firm does work that ranges from residential to historic preservation—and now trailers. With Butcher, Carson is inventing "a new, ground-up, free interpretation of the trailer," he says, for people looking for a second home, a pool house, or a home office. "It's like a prefabricated home," he says, "but we're going to leave it on wheels."
"There are no modern trailers now," Carson says. "That's a huge hole in the market, and it's what we are aiming at. We're going to revolutionize the trailer industry with this new piece we're doing."
Today's trailers lack the style and character of the vintage models they love, Carson and Butcher say. "We're tired of the look of what's out there now," Butcher says. "The style of the trailer has not changed in the last 30 years. It still looks like a 1970s, '80s house." "They lost their cool look when they started going to fiberglass exteriors," he adds.
<![if !vml]>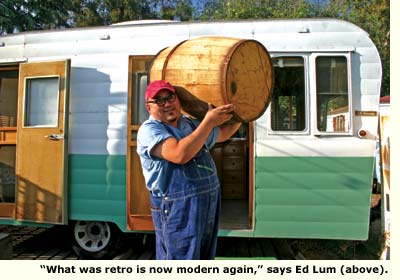 <![endif]>Butcher shows off some of the vintage trailers he has restored and modernized to suggest what his latest endeavor might accomplish. They've dropped floors to provide holding tanks for water and wastewater, added air-conditioning, espresso machines, I-pod docks, Tivo, computer cables, and European cabinetry. They're adding solar panels to a 1952 Spartanette and a vintage Westcraft. "We try to make it look like it was built in the '50s," Butcher says, "with a little bit more modern flair to it." "And all the comforts," Carson adds.
Movie stars have used their revamped machines as homes away from home while on location, and Hollywood writers have used them for offices.
Butcher may spend his weekdays driving for studios and weekends rebuilding trailers, but he's never been happier. "That's what we like to do," he says, "design and build. It's not about the money. It's about building something cool, something that looks good."
Photos: John Eng. Also by Douglas Keister; and courtesy Juergen Eichermueller, PhD, Funky Junk Farms
Splash illustration: Ed Lum
Resources
<![if !supportLineBreakNewLine]>
<![endif]>
• Funky Junk Farms is open for tours (by appointment only) to visitors with a sincere appreciation of travel trailers and all things vintage. Call 323-309-8087, or e-mail. Web site: funkyjunkfarms.com
• The Monterey Trailer Park, a Los Angeles designated historic monument, is at 6411 Monterey Road, in the Los Angeles neighborhood of Highland Park, a few blocks from South Pasadena and just of the Pasadena Freeway.
• For interesting CD collections of vintage travel trailer magazines, brochures, and memorabilia, contact Juergen Eichermueller and view his archive online through allmanufacturedhomes.com
<![if !vml]>

<![endif]>
WHEN 'WHEEL ESTATE' WENT WILD
By Juergen Eichermueller, PhD
The 'wheel estate' market of the 1950s boasted many bold designs—with big-ticket price tags to match—that rivalled some of the most modern site-built homes of the era.
<![if !vml]>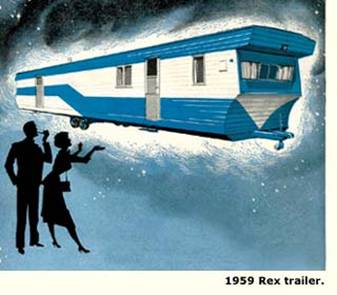 <![endif]>The major difference between the two living spaces was that the travel trailer, or mobile home (as they were more commonly called), could be moved, usually by a special moving company, at the whim of the owner. Whereas the stick-built homeowner was tied down, literally, to the property on which their house was built, the mobile homeowner could 'get up and go' to any part of the country, and in any season.
What's more, if their budgets permitted, mobile folks could cruise the high life, hanging out at five-star-rated, landscaped mobile home parks equipped with deluxe amenities, which included heated swimming pools, tennis courts, and clubhouses.
Of course, the stick-built house owner did have more living space and larger rooms. While that was somewhat of a downside for trailer owners, most certainly didn't feel deprived. After settling into a luxury park, many trailer owners added on large wood or masonry cabanas, generally the full length of their trailers. These additions had everything inside them, including sliding-glass doors, fireplaces—and even wet bars!
<![if !vml]>

<![endif]>
Originally, trailers were manufactured in standard eight-foot widths for ease of towing. When ten-foot-wide units were introduced in 1954, they were a big hit not only with mobile home dwellers but also with their designers, one of whom was Raymond Loewy, the well-known industrial designer. The ten-wides, as they were called, did require an over-width permit for relocation, and each state had its own regulations as to how and when they could be moved and the cost involved.
Since manufacturers were obviously limited in width and length, the designers turned their attention to creating ingenious and lavish interiors, including two-story or double-decker models. These two-story trailers featured two bedrooms upstairs, sometimes with an added half-bath. The downstairs had another bedroom with a full bath, an ultra-modern kitchen with wall ovens and other chic appliances, and a comfortable, carpeted living and dining area.
<![if !vml]>
<![endif]>One of the most luxurious double-decker models ever created was the Vista-Liner by Indiana-based Smoker Lumber Company. Literally a land yacht, the Vista-Liner came in two lengths, 45 and 50 feet, and featured four bedrooms, two baths, oak flooring, and various other modern accessories—and sold for a whopping $25,000 FOB! Meanwhile, in Florida, a new three-bedroom, 1.5-bath house on a lot was selling for under $10,000!
Smoker was not the only manufacturer that produced such high-priced wheel estate. Another Indiana company, Kropf, came upout with a ten-wide mobile home called the Eldorado that boasted an actual butterfly roof (ala the Palm Springs Alexanders) with clerestory windows in the living and kitchen areas that compared in design with some of the country's best site-built homes. "Supremacy in regal luxury, styled for lasting beauty," boasted Kropf's ads. The price for this regal beauty ranged from $10-15,000.
<![if !vml]>
<![endif]>Pan American was a well-known West Coast manufacturer that produced mobile homes in the same price range as Kropf, but with the sunny California look of sliding-glass doors, large windows throughout, and central air conditioning.
Two other California manufacturers, Budger and Trailorama, built eight- and ten-wide mobile homes that expanded their widths to 16 and 20 feet wide, respectively, when parked. Decorated in style, from California modern to French provincial, their interiors featured all of the comforts one could imagine: fireplaces, ultra-gourmet kitchens, and up to three bedrooms and three baths with dressing rooms. Their prices? $10-20,000.
Who bought these trailers? Who could afford them? Generally they caught the eye—and pocketbooks—of retired doctors, lawyers, businessmen, and others in the golden '50s who appreciated not only the regal design of the mobile home but also the plush country-club-like lifestyle of the upper-end mobile home park.
Trailer trash? Not hardly!
Powered by Lucy
<![if !vml]>
<![endif]>TV stars Lucille Ball and Desi Arnaz brought respectability, fanfare, and a surge of sales to trailers and their industry with the 1954 comedy film 'The Long, Long Trailer,' directed by Vincente Minnelli. The couple's adventures were centered around their new vacation home on wheels—a streamlined, yellow-and-white, 36-foot 1953 New Moon trailer from the Redman Trailer Company.
The excitement that surrounded the 'I love Lucy' trailer was the best thing that could have happened to any trailer manufacturer in the 1950s. What's more, trailer folks (as well as parks) were portrayed as nice and pleasant—never as 'cheap.'
'The Long, Long Trailer' became MGM's bestgrossing comedy up to that point and transformed Redman overnight from a small regional outfit (building one or two trailers a day) into one of the nation's largest mobile home manufacturers (with five or six factories, producing hundreds each day).